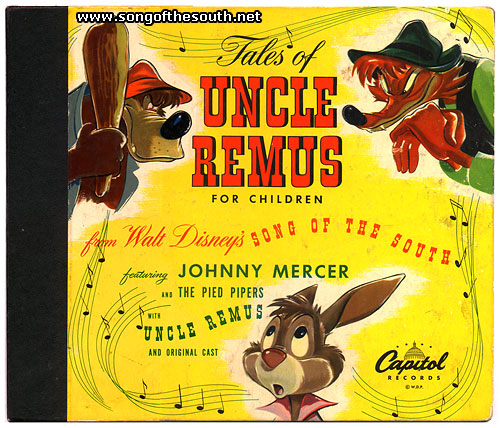 One dollar started it all.
Well, okay, I guess it all really started when I saw Song of the South at the age of 6 in 1986. I loved it! But after that, the movie gradually faded away, and so did my memory. (How much do you honestly expect a 6-year-old to remember?) For nine years all I could vaguely remember was Brer Rabbit, Brer Fox, Brer Bear, and the bull scene.
Then, at the age of 15 I was at an antiques show in Bakersfield, CA (I also collect insulators), when I noticed those familiar Disney characters, peering up at me from under a record dealer's table. The vibrant yellow cover awakened my fond childhood memories. I asked the dealer how much he wanted for the poor old thing—one record was scratched, one broken, and one missing. He sold it to me for $1. The rest... well, the rest is history. My collecting nature took over! I started collecting more and more, and before I knew it, I had a small collection of memorabilia that I wanted to share with others.
In 1998, I began working on a web site to display my collection—about 15 items at the time. In 1999, when my first web site finally went public, I began receiving dozens of emails from people asking me about the movie—looking for answers. It was then that I began asking myself the same questions. Where was this movie? Why wasn't it available? My eyes were opened to the general lack of information available on Song of the South. This "cybersilence" was so uncharacteristic of the Internet, and especially of a Walt Disney film!
It was then that I began to work on a solution: provide the public with the most information possible on Song of the South. As I researched the movie and collected more and more memorabilia, my goal eventually grew into a passion. Hello, my name is Christian Willis, and I'm proud to be able to offer you the most complete and comprehensive database of information on Walt Disney's Song of the South. Whether you're a seasoned Disneyana veteran or have merely stumbled across Walt Disney's unique (and some would say controversial) interpretation of Americana, I hope you enjoy the site.
The work doesn't end here; Song of the South will always have a future to be recorded, and I'll be keeping track of it!
(Left) James McKimson, Uncle Remus Pages Webmaster
(Right) Christian Willis, SongoftheSouth.net Webmaster

About This Web Site: Looking Back If you're the type of person who would be interested in seeing what this site used to look like back when I first started, check it out. I've compiled a timeline of all my Song of the South site designs from 1998 to present, and you can view the original pages.